Bankruptcy Lawyers in Jacksonville, FL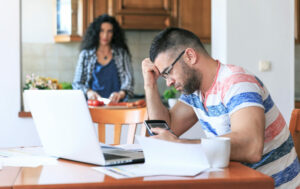 Bankruptcy is sometimes viewed as "the easy way out." But the reality is that sometimes bankruptcy is the only way out. Talia Gahanian has years of experience dealing with people and families in your situation.
At Gahanian Law, PA, we will evaluate your entire financial picture and help you decide if bankruptcy is the right choice for you. Most importantly, we will help you understand the benefits and consequences of filing so that you can make an educated decision. We will treat you with the compassion and understanding that you will not find in many other firms. We know that the decision to file for bankruptcy is not an easy one. So we guide our clients through this stressful situation with compassion and care. Contact our office to schedule a free consultation.
How Does Bankruptcy Work?
Bankruptcy is a powerful tool that can help you rebuild your finances and get a fresh start. There are two primary types of consumer bankruptcy:
Chapter 7 bankruptcy: sometimes called "fresh start" bankruptcy. This chapter allows people to wipe out the majority of their debt and begin to rebuild their credit with a clean slate.
Chapter 13 bankruptcy: like a debt consolidation, it allows you to pay all your creditors in one payment each month. At the end of the repayment period, you obtain a discharge of the remaining balances on your debts.
Each form of bankruptcy has its own eligibility requirements as well as unique advantages. A Florida bankruptcy lawyer at Gahanian Law, PA can help you evaluate your options and determine which chapter of bankruptcy best suits your situation.
However, no matter which chapter of the Bankruptcy Code you select, your filing will trigger a bankruptcy stay. For many of our clients, this stay is a welcome relief and significant benefit. Simply put, once you file for bankruptcy, your creditors and their collection agencies must pause their phone calls, letters, and legal actions — including foreclosure and other money judgments.
Can I Eliminate All My Debt During Bankruptcy?
Unfortunately, bankruptcy cannot discharge all debts. While the rules vary depending on which chapter of bankruptcy you're using, you typically cannot eliminate:
Unpaid, court-ordered child support and alimony
Fines, penalties, and restitution from a criminal case
Certain tax debt
Judgments from a drunk driving wrongful death claim
Other debts are difficult to discharge unless you can show undue hardship or you qualify for an exemption. These hard-to-discharge debts include student loans.
About Talia Gahanian
When we meet at your consultation, I am going to take the time to get to know you a bit. But before then, I wanted to take a minute to tell you about myself. I am a Jacksonville bankruptcy lawyer licensed in Florida since 2015 and I practiced for several years in Ohio and was a paralegal before that. And I have been helping people with financial issues for the better part of 17 years. I was drawn to this area of the law because I feel like I can really help people in a major way. Freeing people from a financial bind is often the difference between improving their credit to allow them to buy a house in a few years, or to retire without an overwhelming amount of debt, or to just get back on track after job loss or divorce.
Free Initial Consultation
I don't charge a fee for the initial consultation. I always feel like my clients come to me with financial problems, I don't want to add to the financial burden if I can't help them. That said, oftentimes I meet with people who don't need my help or who are capable of handling the matter on their own. In those cases, I tend to give them a bit of advice on how to best handle the matter — what is going to happen next, what to watch out for — and send them on their way.
The legal system in the United States can be intimidating. I help my clients navigate the system to achieve the best possible outcome for them. Each client is an individual and I dedicate time to get to know each one. If you decide to allow me to represent you, I assure you I am always reachable to my clients.
I am looking forward to meeting you at our appointment. I am sure that I will be able to help you. And if not, then I am sure you will at least gain a bit of free legal guidance and peace of mind.
Talk to a Bankruptcy Attorney Today
At Gahanian Law, PA, we pride ourselves on our compassion, practical advice, and sophisticated debt relief strategies. If you're struggling with overwhelming debt, contact us today. Consultations are always free, no-risk, and confidential. We can help you understand your bankruptcy options, as well as how you can get started on regaining financial stability.
3840-1 Williamsburg Park Blvd.
Jacksonville, FL 32257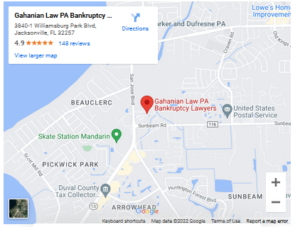 Gahanian Law, PA © 2016 - 2022 
All Rights Reserved